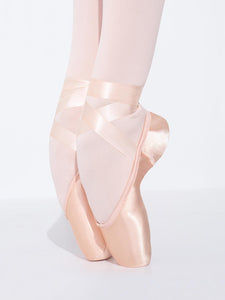 SALE!! Capezio Airess Pointe shoe - Broad Toe
Assemblé like a principal dancer in the Airess Tapered Toe Pointe Shoe.
This premium pointe shoe has a tapered toe box and a 6.5" red board shank, 3/4 skived to zero that enhances arch support for long-lasting wear.
Features built-in, plush inner lining for extra comfort and a platform that's hammered flat to create a secure balance when you visit the barre.
Stitched pleating construction absorbs sound, making every movement gracefully quiet.  Ideal for a broad (Roman) foot.

---
We Also Recommend
---