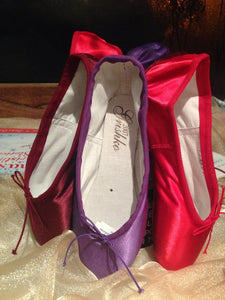 Grishko 2007 Burgundy pointe shoe 5XXX
This is a Grishko 2007 pointe shoe made specially in a stunning burgundy satin!
SIZE 5 XXX 
Other sizes are available but they will take about 8 weeks to be made. 
A V-shaped medium vamp with a drawstring, medium platform, machine-stitched suede sole.
The 2007 is a new anatomical form that is extremely supportive and comfortable for all kinds of feet.
This specially designed extra light model has an easy transition through demi-pointe to full pointe.
The shoe is distinguished by its perfect balance and placement. All shoes have to leave the factory being to stand on the workman's bench unassisted!
NOTE: Pointe shoes should only be purchased on-line if you have already been professionally fitted, approved to be on pointe by your teacher and know your correct size.
Sizes shown below are in stock - if your size is not here, please call to order. We can also order custom pointe shoes in different colours and specifications.
---
We Also Recommend
---