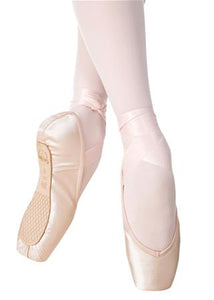 Grishko Super Triumph Pre-arched pointe shoe
The Super Triumph pointe shoe has been developed based on the features of the classic Triumph shoe, but these pointe shoes have more than 3 times longer life span vs. classical styles owing to the- state-of-art chemical-free insole materials.
-Paste-free and the use of thermoformable materials help make the insole very lightweight.
-The box made of natural materials absorbs moisture and is adjustable to any foot arch.
-The insole is assembled by hand and with care for any foot work and muscle strengthening.
-Pre-arched shank makes the shoe ready-to-wear.
Available in sizes 1X to 8XXXXX
Pointe should only be purchased on-line if you have already been professionally fitted, approved to be on pointe by your teacher and know your correct size.
---
We Also Recommend
---