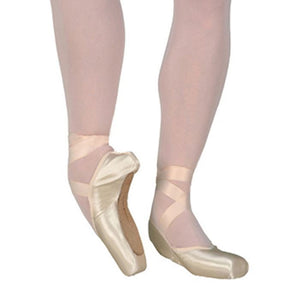 RP Rubin soft blocks demi pointe shoes
For a brilliant transition from ballet slippers to pointe shoes, many pre-pointe teachers choose Rubin Demi-Pointes.
More resilient than slippers – yet not supportive enough for pointework – Demi-Pointe shoes give developing ballerinas a chance to build strength and gradually discover the sensation of wearing a pointe shoe.
The ultra-lightweight toe box provides the perfect introduction to the feel of a pointe box around the toes. The beautifully clean-edged toe platform helps dancers find their center for pointe alignment.
The shank-free sole gives gentle resistance to strengthen the feet – especially if the dancer is accustomed to split-sole slippers – without the supportive thickness of a pointe shank.
With a wide toe platform, Rubin is exquisite for feet with even-length to slightly tapered toes
---
We Also Recommend
---